How Do We Dismantle White Supremacy Culture? – An Interview with Carolyn Roberts, Presenter at DWSC 2021
Find out how we dismantle white supremacy culture from Carolyn Roberts. Carolyn's work is about educating others around her in the importance of Indigenous culture and ancestral ways of knowing, to work towards a brighter future for all Indigenous people and the seven generations yet to come.
Carolyn Roberts is one our dope workshop presenters at the upcoming Dismantling White Supremacy Culture in Schools 2021 Conference June 14-18th.
Read all the other presenter interviews here: Shane Safir & Jamila Dugan, Matthew Kay, Luz Yadira Herrera & Carla España,  Michael Essien
---
Register for the DismantleWSC Conference here learn about our presenters below.
---
Interview with Carolyn Roberts
What type of student were you and where did you find joy?
I was the student that was always at the bottom of everything in the class, the lowest reading group, math group… everything. I was pulled out for support and not able to participate in a class like others.  I found joy in music because this was where I could shine. I never found a place of belonging in the school system and it wasn't until I left the system that I found out where I could shine.
What is the most destructive force in schools?
The most destructive force within the school system is the equity gap model and all that it brings to the table. I believe this model speaks to the injustice of the system and perpetuates the colonial model of education. We need to be aware that there is a racist structure of power, a structure that our school system, governmental system, and social system is all built upon. 
What needs to be looked at critically here is the broader systemic issues that our system is built upon racists ideas and racist policies. One of the main racist policy in place within our educational system today is the equity gap model. This is a model that Eve Tuck an Indigenous academic and Ibram X Kendi a black academic speak about within their work. The equity gap model focuses on featureless objective numbers that show success with graduation rates.  This is damaged-driven data which allows the continuation for the western colonial system to continue the systemic racism without us realizing what it is actually doing. This model is speaking to indigenous inferiority, it is starting negatively and re-enforcing the racist beliefs that Indigenous children are less than the "other" population or "whites". Indigenous students and BPOC students need to be talked about more than just a broken and conquered people, this is an incomplete story, as Eve Tuck says "it is an act of aggression". Using academic achievement and graduation rates as the only method to measure success, this perpetuates the racial beliefs that Indigenous and BPOC students are less than, less than smart, less than brilliant, less than period. To believe in this racial hierarchy is to believe in a racist idea. This hierarchy model that there are students at the top who are successful and graduate and that there are students at the bottom who fail and don't graduate,  this model tells us that there is something wrong with the people at the bottom. But if we look at it as an anti-racist it says something completely different, it says there is something wrong with the system that does not allow for all students to be successful. So, what is the system doing wrong to allow this to happen?
As we return back to in-person learning, what should we prioritize?
We need to prioritize relationships, connections, and how we help our students feel like they are included and a part of a larger community that cares for them. We need to allow the space to unfold as the students need it to. Not to force the healing that will need to take place when we come back together because it will all feel different at first.
When it gets hard, where do you find inspiration to continue fighting for justice?
One of my favourite quotes I heard just recently was, it is not that Indigenous people should not be in academic spaces, it is that we should not be there alone. This work is heavy and personal. I would not be able to do this work without my circle of Indigenous colleagues that listen, support, and cheer me on in the work that we all do together. I am also reminded every day when I step into spaces and have conversations to educate, that I am doing this work for my children and grandchildren. I want them not to have the same experience as me, I want them to feel like they have the space to be honoured for who they are. This can't happen without change, my role is to have the hard conversations, the difficult class discussions so that there is space created for my children and grandchildren to be heard.
I also look to my ancestors for their support and wisdom. I am in a space where they were never allowed to be, I am the voice that they never had. So, it is my privilege and honour to be in these spaces and use the voice I was given to create more space for those who come behind me.
What is the most exciting aspect of your work?
I have the privilege of working with pre-service teachers. I have the opportunity to change the system with all of these new ears and eyes. We have amazing conversations about what education is and what education could be if we had the chance to make change. This work gives me hope for the future. New teachers who have more knowledge about our colonial history and ways in which they can change the conversations in our school system makes me get up and do this work every day with an open heart and mind.
What is your favorite book, song or movie of all time? Why?
It is too hard to narrow my books down to one…. I am a book collector and I love each of them all the same! My song would be Purple Rain. Prince has influenced my whole life. His musicianship is second to no one. He stands strong in his power of who he is and never compromises that.  Purple Rain was not the first Prince song I had ever heard but it was the song that pulled me into the power of music. He gave me the love of music and showed me how music can be used as an expression of who you are. I became a musician because of Prince.
---
---
About Carolyn Roberts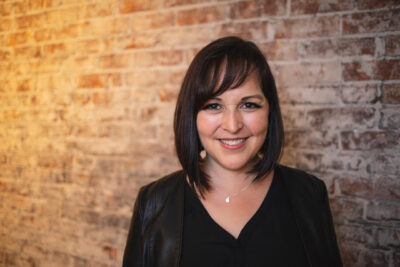 Carolyn Roberts uses her voice to support Indigenous resurgence through education. She is a Coast Salish woman belonging to the Squamish Nation. Carolyn is an Indigenous academic who holds two degrees from UBC, a Masters in Aboriginal Education and Leadership and a Bachelors of Education. She also holds a Bachelors of Jazz Studies from Capilano University. Currently she is a Doctoral Student at Simon Fraser University in the eTAP Program. She has been an educator and administrator for over 20 years and is currently a Faculty Member and Indigenous teaching Fellow in the Department of Education at Simon Fraser University.
Carolyn's work at SFU is grounded in educating new teachers and other faculty
the legacies of colonialism that can still be felt on this land today. These legacies that continue to affect the traditional caretakers of these territories is what motivates her to be an active participant of change in educating those around her about the true shared history of this land.
Carolyn's work is about educating others around her in the importance of Indigenous culture and ancestral ways of knowing, to work towards a brighter future for all Indigenous people and the seven generations yet to come.
Carolyn's Website: Carolynroberts.net
Twitter @mcarolynroberts.net