15 ways to squeeze more out of your Evaluation Process
We all have to do it, evaluations, but it doesn't have to be boring and formulaic. They take a lot of time, are seen as judgemental, and draw clear lines. Every year, administrators get a list of staff to be evaluated and we get to work, planning meeting, making groups, and thinking about growth. This can be both overwhelming and uninspiring. But culturally responsive leaders can improve the process. Just add some connections, clarity, and control.
The whole system can look like a pile of lemons, but there is a better way. This can be a strong lever for change at your school site. You can make some super sweet lemonade, with the right ingredients.
Here are 10 Ingredients to make lemonade out of lemons:
Have your staff set their own goals for the development, including personal and professional (here's a sheet)
Hold a meeting with staff to go over the process, provide context, and get the ball rolling (here's a powerpoint)
Select focal standards that are connected to your school PD, driven by big data, and informed by previous initiatives at your school
Don't forget your equity frame
Share your experience in evaluations if you have a lot of it or your teaching experience if you are just getting started
Tell a few stories about your work with your own coach(es) and how it moves your practice forward
Have your staff select a personal data goal, connected to your school big data goals, that will inform their development for the year
Include student work at all phases, in the pre-conference, during the classroom observation, and assess it together during the post-conference
Script notes, send them to the staff member afterward and analyze them together during the post-conference
Have a pre-conference at the start of the year, where you talk about goals and past experiences with evaluation/coaching.
Add this if you like your Lemonade extra sweeter:
Talk with any other coaches of staff at your site to make them aware of your school goals, focal standards, and calibrate look-fors in classrooms
Visit frequently and give feedback both warm and cool feedback
Develop a general walkthrough tool to use all year, that is connected with your focal standards
Collaborate with your Educators' Union to show the connections between the process and the contract
Block out time in your schedule so you make time to frequent classrooms, to ensure you have more time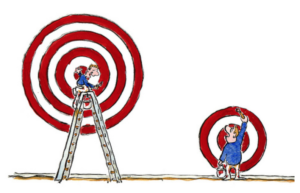 Look for a future post about what to look for in a classroom visit/observation.
Reflections
As a principal, the process still gives me a little anxiety. Can I do it right? How do I use this process to improve teaching and learning? How do I not make it feel so judgemental? Can I connect it to everything else we are doing? How do I find the time?
But, after 8 years, I am starting to clarify my understanding of culturally responsive leadership. I realize it makes sense to be uber explicit and upfront about the process. Also, there must be an incredible focus on coaching throughout.
The more I talk about what I am looking for, why that it, and what supports are available the better it gets. You have to put it out there, and make the bar high and visible. Make it about the kids, the marginalized kids, and be in solidarity to reach that bar together.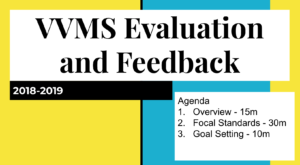 Resources
Powerpoint (google slides) I used to kick off evaluations for the year, complete with photos, video, and jigsaw activity.
Goalsetting Sheet for staff to use before your first meeting
Good luck leaders!