Deeper Learning Conference 2019 – Review
I just wrapped up 3 days of deep learning at the Deeper Learning 2019 Conference, in San Diego, put on by the High Tech High folks. Workshops, keynotes, and good music. But should YOU go?
Short answer, YES, you SHOULD go.
Keep reading for the long answer.
General Info
There's something about a Conference that takes place at an actual school. Smooth check in and you walk right into the High Tech Elementary. School is easily on your mind. There were tons of HTH students and staff there to help with directions and anything. There were 1400 folks there! Food, water, and snacks were plentiful.
It felt very intimate to pack into their atrium and hear the keynotes and learn in actual classrooms. The hallways and rooms were all so nice. Student work on display. Carefully curated. Gives us something to strive for as we re-design space (peep this article on getting rid of all the individual desks in your school).
There are morning keynotes, workshops, an all-day PBL immersive experience, and deep dive dens (similar to a fireside chat with questions from the audience). Some of the sessions overlap which is cool, because there is plenty to do and stay busy. There is also a lot of in-between time and space to collaborate and connect.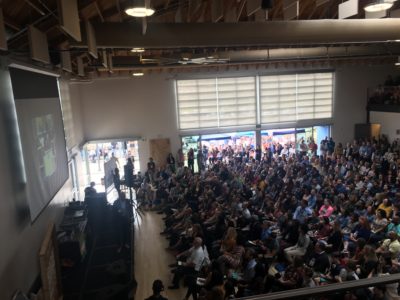 The conference is spread around 3-4 campuses, which are all pretty close. It's more walking than some might expect, but it gives it a college campus kind of feel. You pass people on the street, catch up, and it just feels like a communal learning experience.
What Surprised Me
There was more than a bit of equity and race flowing through this space. Of course, there was plenty of PBL workshops (don't worry, you will learn plenty, with many options, there were 3 times for workshops with 30+ options each time!). But, there were also workshops on whiteness, the white savior complex, implicit bias, privilege, and shit, they asked me to do a session on White Supremacy Culture. I ain't mad at that.
And there were a bounty of brown folks! I have been to some other conferences where melanin was harder to find than Betsy Devos at the upcoming Anti-Racist Book Faire. But, I saw lots of POC (the global majority and new US majority). Conference planners were proud to report that there were about 40% POC and that says something about their intentionality.
I have been so many conferences where equity and race were conveniently not mentioned so I was pleased to see that they were bringing racial equity, sexuality, and equity into the mix. Would have liked to see some patriarchy getting smashed, but it's hard to do it all.
Please Chris Emdin, Don't Hurt 'Em!
This was my first time seeing the scholar doctor, Dr. Chris Emdin speak. (wide-eyed) If you still haven't read his book, For White Folks Who Teach in the Hood, get out from under that rock, and order or borrow it. It's one of the books on my 24 Anti-Racist Books List. Well, he set it off from jump. For 90 minutes, he brought the house down. His delivery and dexterity (not far from the emcees he speaks so much about) were unparalleled. Emdin's energy alone reminds me of why I am in schools, and how much more is needed. Some of his main points:
If there ain't no joy, there ain't no learning
Your degree doesn't mean anything if you can't connect it
We need to stop trying to convince students to be like us
We need to be moving more in schools
There is much to learn from dance, church, hip hop, and poetry
We need to evaluate our allegiances
We need to return to our roots and our cultures to move forward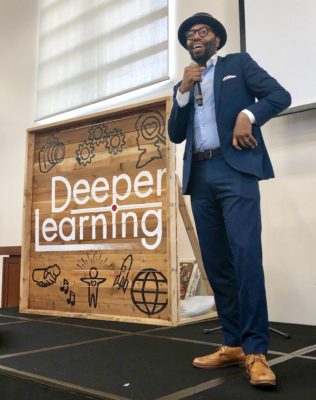 Highlight: He showed this video of kids dancing, and then analyzed the fact that the whole group sat and watched uncomfortably, instead of dancing. He pointed out that this shows how free we don't feel and that if our kids feel the same way, we ain't doing nothing. Then he went back to the clip, yelled at everyone to get up, and hundreds of people danced and were joyful.
We shouldn't have to be forced to be joyful. That shit is natural. We need to tap more into that.
What I Did with my Time
I got to present a workshop on Bringing PBL to the Hood (threw in some white supremacy culture too). That was fresh. (see this link for my reflections and takeaways) Appreciations to all the folks who came through to dive deeper than diversity. If participants are reading this, for real, hit me up and link up with like-minded folks. Shout out to Ana from Independence High in SFUSD, who captured this: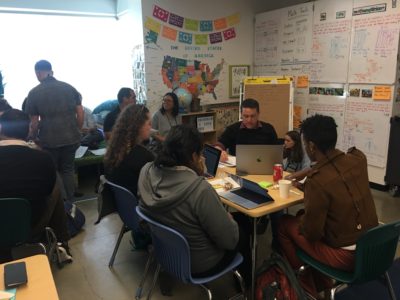 Big ups to @trussleadership and his talk about using #PBLintheHOOD #DL2019 #weareSFUSD pic.twitter.com/NttCRKmV63

— Anna Klafter (@MsKlafter) March 28, 2019

Then I ran over to a Deep Dive Den session with Jim May and Lydia Dobbins from New Tech Network. It felt like a talk show/discussion. Folks in the audience asked about working with entrenched staff, how to address bias in schools, what do do about literacy interventions, and what support I needed as a principal (sustainability?). It was cathartic to tell my story and share my failures and successes. Fun times. It was such a great opportunity. We need to give more space for us to share our reflections and "learn in public," as my homie Rachel Rosen says. Here was one person's take away:
"Change is happening. The bright spots are there. Kids are learning. Be patient, it takes time, YOU CAN'T STOP!" –@trussleadership

Thank you for sharing your experience and wisdom with us this afternoon! #DeeperLearning #DL2019

— Katrice Quitter (@katricequitter) March 27, 2019

Later, I ran over to another Deep Dive Den, this time with Sam Siedel (Hip Hop Genius author and instigator at the Stanford K12 lab) and his mom Adria Steinberg creator of the almighty 6As protocol. In the flesh! They talked about their work in design thinking, PBL, activism, and more. Fresh to see an intergenerational dialogue.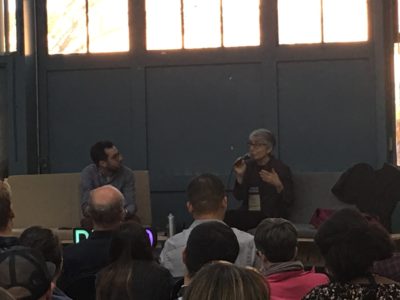 Also, Sam shared a project we have been collaborating on. We had this idea when we were at the National Equity Project's Leading for Equity Institute (review here) to flip the 6As into the 6Es. His idea was to use it for organizations taking up more equity. Mine was more related to tuning a unit plan or project to infuse more equity and racial justice into the mix. They talked about some ideas on this, Adria shared 5 more As for this, and an audience member, Kendra shared her own version of 6Es.
2019's deeper Learning Conference was SUPER LIT.. I was able to create and share my ideation of the 6 E's to the den & Adria Stienberg, @husslignton, and @trussleadership as the my shared their equitable pathways through PBL. #legacyLens #socialprogress #education #deeperlearning pic.twitter.com/ZLHR5lM65k

— LegacyLens (@lens_legacy) March 29, 2019
I plan on interating on this too, through a blog series and/or a tool coming out in the next few months.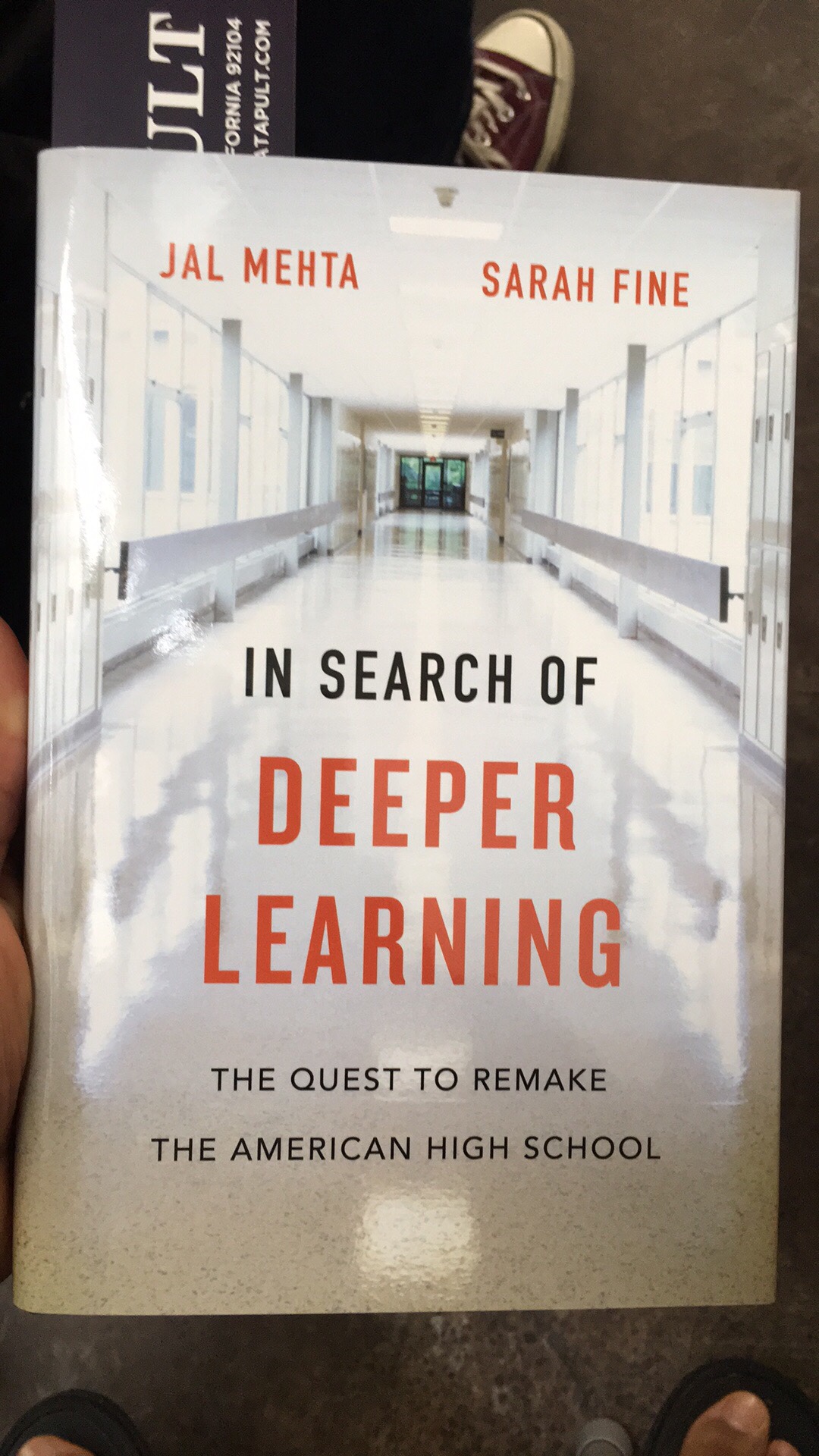 New Deeper Learning Book
I got to listen to authors (Jah Mehta and Sarah Fine) of the new book, In Search of Deeper Learning. They talked about their research to produce this book. They visited schools across the US looking for engaging learning. They didn't find much, especially in the core academic classes. Then, they started looking at the periphery spaces and found lots.
Some good quotes: "Everything happening AFTER THE BELL was interesting." Yearbook, drama, sports, arts" and "Don't Save the good stuff for the last 3 weeks of the school year," and "Schools that got Deeper Learning right, addressed above and below the green line" (Steve Zuieback).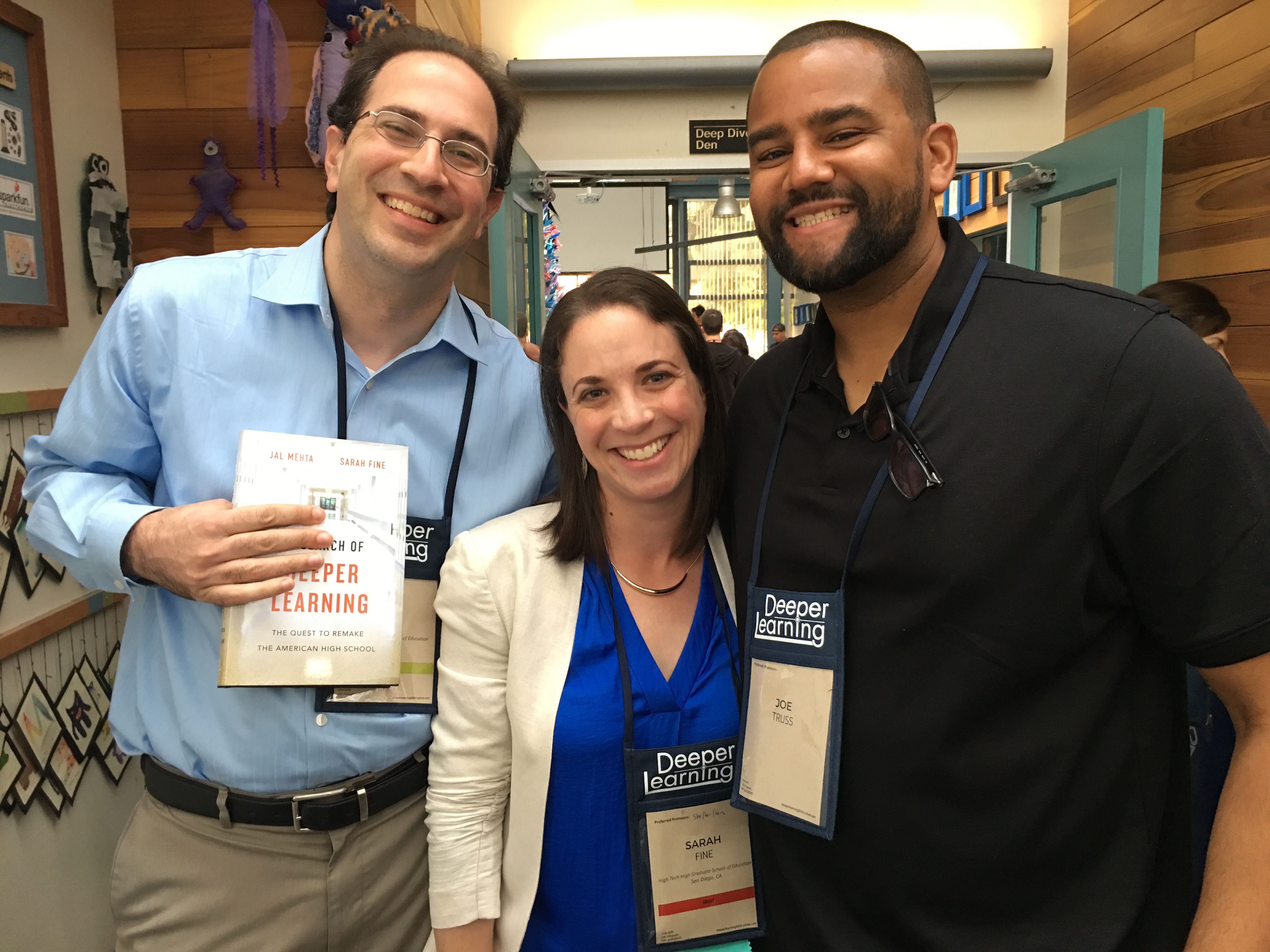 Closing Keynote by Ted Dintersmith
I didn't know what to expect from a venture capitalist that said he been exploring what schools could be. But after listening to him for an hour, I was a believer. Ted authored 2 books, Most Likely to Succeed and What Schools Could Be. I concur with his analysis of patterns in schooling. Too many worksheets and low rigor too much disengagement and uninspiring places. And we are getting left behind, especially poor folk.
His answer: deeper learning, changing the college admission process, and paying our teachers more. We know Equity ain't free y'all. He invited folks who had big ideas for educational change to submit them. He even shared the Innovation Playlist, a resource of videos for schools and districts excited about deeper learning. Lots of good stuff.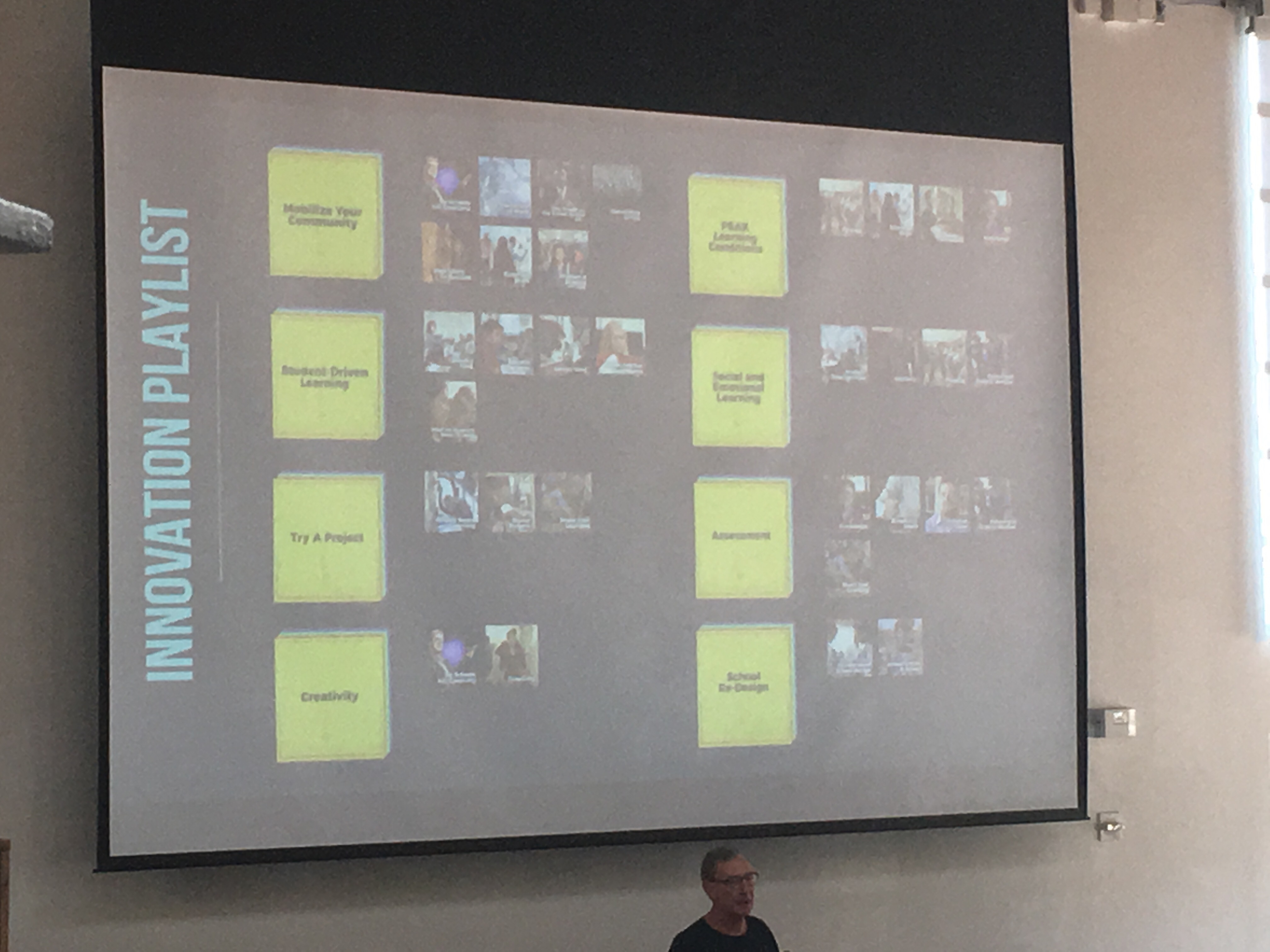 I would argue that one thing missing from his conclusions, was how these patterns correspond to race, class, gender, and immigration status. Also the lack of cultural relevancy, responsiveness, and critical pedagogy in schools that serve our students of color. Those answers should be coming from POC anyways, but once he hears about it he can amplify their message.
Oh, You Want to Go Deeper?
Check out these pieces on deeper learning.
Preview, I'm finishing up a list of dope conferences. Be on the lookout in April.